With the help of social media, you might be aware of all the calamities happened in the Philippines. From terrifying earthquake which hit Bohol badly, to that strong typhoon named Yolanda causing many people lives in a bad state from Palawan, Samar, Leyte and other part of the country.
We can help. We can do something even if we don't have much financial resources.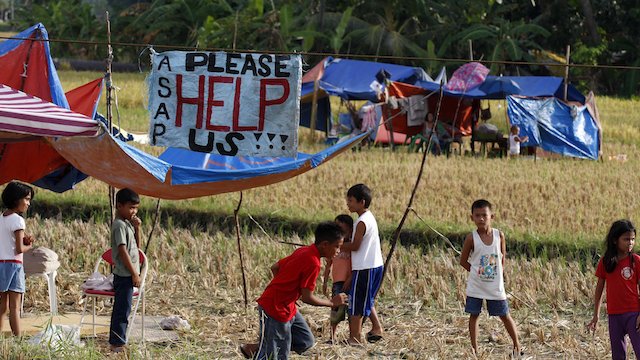 photo from rappler.com


How you can help?
1.
Buy items posted here.
Aside from the old clothes to donate, here's a list of items I would like to sell. Things I think worth selling. Prices are in range, adjusted to your budget.
2.
Sell your items too!
You can send me an email at adventurousfeet@gmail.com or you can sell it on your own.
3.
Donate via paypal/bpi.
If you still insist on cash donations,
I have bpi or paypal account. Just make sure to email me and take a picture of the deposit slip.
4.
Prayers
. I always believe that prayers really work.
Shipping Fee is not included.
I hope you understand that everything here is for the benefit of earthquake and typhoon victims. It's your choice of shipment din but you have to pay the shipping fee.
QC Meet up
I have work during weekdays in UP-Ayala Technohub, Commonwealth Avenue, Quezon City. If you have time, we can meet. For big items, I would suggest that we just meet nalang. For weekends, let's meet in Trinoma or SM North or Gateway/ Farmers Cubao, or Welcome Rotonda QC. Upon agreement and availability lang po, mag-isa lang kasi ako eh hehe. Thanks for understanding. :)
Send me an email or a private message in my Facebook Page.
Email:
adventurousfeet@gmail.com
Transparency.
If this is something to do with money, of course, you'll expect transparency. Any items sold or donated for this fundraising will be updated here. If you don't have access, give me your email so I can keep you posted on email.
Got this from a college friend Reycel. (I hope di ka naman magalit I'm selling this)
I won a contest courtesy of Pinay Travel Junkie and I know this cost around Php 1000 in malls.
Got this from Air Asia family. :)
I used this during board exams. Baka may kapatid kayo who need this one. Box, nasa akin pa.
Thanks girl! :)
Item #21-22 c/o Mai Flores again
Items #23-25 c/o Abby Enriquez
- needs cleaning
_________________________
P.S.
I'm also sharing this for my dear manager who used to volunteer in Bohol for a year or so. You can also give your donations here.
You can also send your donations in Red Cross:
http://www.redcross.org.ph/donate
Or here in World Vision Philippines:
http://www.worldvision.org.ph/
So many ways to help...
I WOULD LIKE TO THANK EVERYONE WHO HELPED, I KNOW GOD WILL GRANT YOU MORE BLESSINGS FOR HAVING A GOOD HEART. I WILL BE CLOSING THIS ON DEC 27 SO I CAN MOVE FORWARD IN DONATING THE MONEY TO CHARITY. WILL POST PICTURES SOON.